Responsive design + speed = revenue
Logical Position's Small Business Websites combine mobile friendliness with lightning fast Google PageSpeed. Sign up today to see the difference adding a fast Small Business Website can make for your online marketing.
Get Started
Beautiful on all devices
Responsive website design is the name of the game. Each Small Business Website is built responsive and looks good on any device, especially mobile! Check out the full gallery of available templates to see how they all look on desktop computers, tablets, and phones.
Fast Google PageSpeed
Over half of all visitors will leave your site if it doesn't load quickly. This means that speed equals revenue. These sites are built to be lightweight, load fast, and score high on Google's PageSpeed Insights test. Spending money on Google AdWords? Make those clicks count and keep visitors on your site instead of losing them to slow load times.
Search Engine Optimization
Get started in the right direction by putting effort towards Search Engine Optimization. All Small Business Website packages come with onsite SEO Consulting. Our SEO experts work side by side with our web development team to make sure each site we launch includes SEO best practices such as; redirects, keyword targeted titles and more!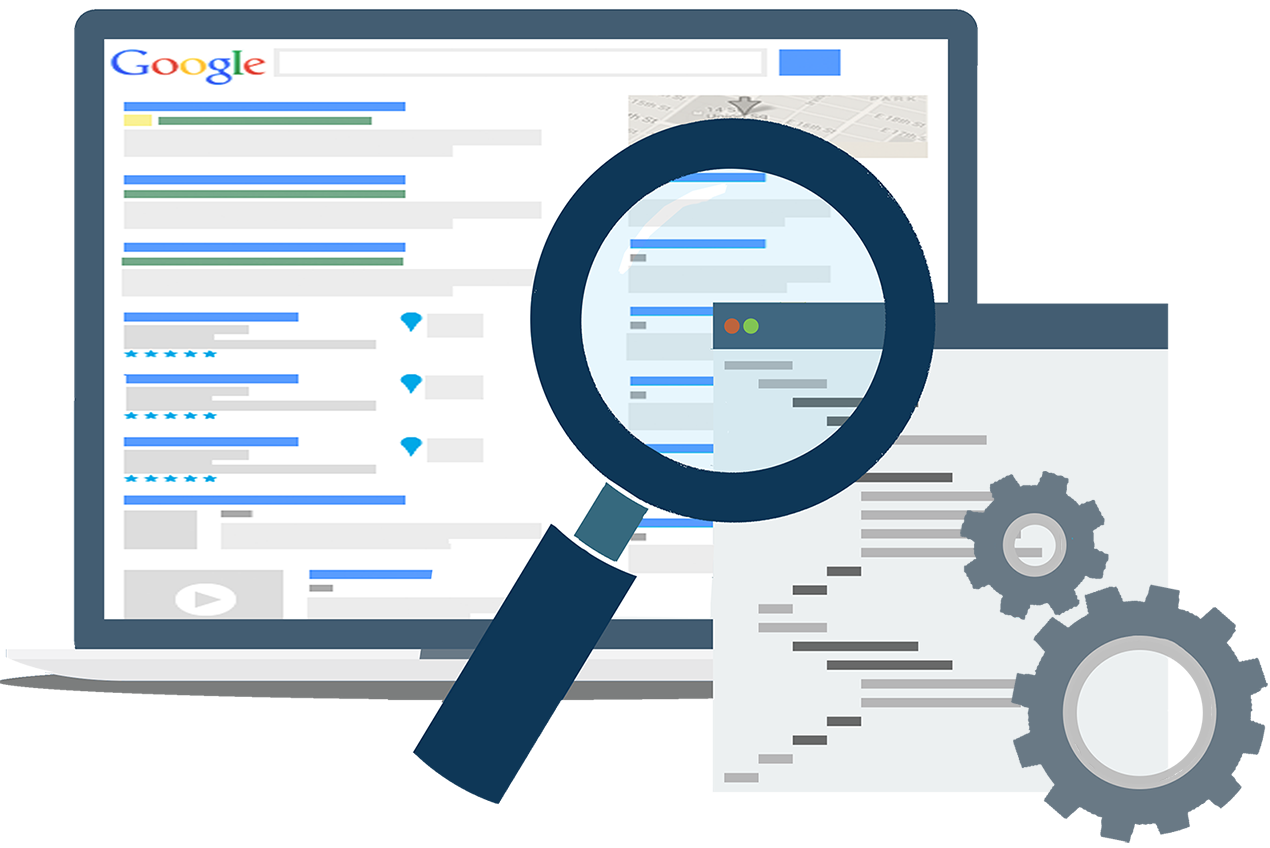 Monthly maintenance
Need some help throughout the month such as adding images or new pages but don't have the time? Though all packages allow access to the easy-to-use Content Management System allowing you to quickly make changes to your website from any device, most packages include a defined number of monthly changes we can implement for you. View the packages below to see how many monthly maintenance sessions each package includes.
For the DIYer
The easy-to-use Content Management System (CMS) gives you complete freedom in changing your website after we launch it. The What You See Is What You Get (WYSIWYG) editor lets you drag and drop items around the page to move them exactly where you want. Adding new elements and putting them in the perfect position couldn't be easier.
Starter
Great for single-service companies or one-page sites.
Starting Pages: 1-5
Fast Page Speed: Yes
Site Analytics: Yes
Mobile Friendly: Yes
Stock Images: Yes
Hosting: Amazon
Domain: LP or Client
SEO Consulting: 1 Hour
Design Revisions: 1
Site Backup: Yes
Customer Reviews: No
SEO Tools: Yes
Blog: Yes
Included Monthly Updates: 0
Add'l Monthly Updates: $150/hr
Ecommerce Features: No

Setup Fee:

$499

6-month agreement
Standard
For multiple services or locations.
Starting Pages: 6-10
Fast Page Speed: Yes
Site Analytics: Yes
Mobile Friendly: Yes
Stock Images: Yes
Hosting: Amazon
Domain: LP or Client
SEO Consulting: 1 Hour
Design Revisions: 1
Site Backup: Yes
Customer Reviews: Yes
SEO Tools: Yes
Blog: Yes
Included Monthly Updates: 1
Add'l Monthly Updates: $150/hr
Ecommerce Features: No

Setup Fee:

$699

6-month agreement
Premier
Great for sites with a lot of existing content.
Starting Pages: 11-15
Fast Page Speed: Yes
Site Analytics: Yes
Mobile Friendly: Yes
Stock Images: Yes
Hosting: Amazon
Domain: LP or Client
SEO Consulting: 2 Hours
Design Revisions: 2
Site Backup: Yes
Customer Reviews: Yes
SEO Tools: Yes
Blog: Yes
Included Monthly Updates: 2
Add'l Monthly Updates: $150/hr
Ecommerce Features: No

Setup Fee:

$999

6-month agreement
Frequently Asked Questions
Content
The content for Small Business Websites comes from you, either via content from an existing website or content you submit to us. We will do our best to launch the site with as much content as we can, but you can always go in at any time and edit/add/delete content to the site. Want us to write the content for you? View our SEO consulting packages which come with content creation and start at a one-time cost of $750.
Yes, though it is not recommended. All packages give you the ability to easily add pages yourself through the website builder but the smaller packages may be lacking functionality you want (such as a blog). If you have a 30 page site and get a package with 5 included pages, we will create just 5 of those pages and it will be on you to create the remaining 25.
Each package comes with a set amount of included pages that we will launch with. After launch, you are able to go into the site and add as many pages as you'd like.
Miscellaneous
The #1 thing that will delay the launch of a site is getting content from the client. If you have all the content then it is a very short turnaround. If not, our team will use what we have in order to launch the site as quickly as possible. Once it's live, you are free to go in and adjust the content we placed onsite.
You will own the site once you fulfill the term agreement. After the contract term is completed, we can transfer the site to our partner Dudamobile, which has a platform compatible with our Small Business Websites, or you can continue your plan month-to-month with us after the term.
The way we are able to keep costs lower on Small Business Sites than custom sites is because they are template based and there is no custom development. If you want something custom that is outside of these templates, please speak with your LP contact about a referral to one of our web dev partners.
There is an initial 6-month commitment for our small business websites, which will renew month-to-month until terminated.
Yes! All sites come with SEO functionality built in. Also, each site will include at least 1 hour of SEO consulting. This can include redirects, Keyword Research, Titles and Descriptions for your new site. Check out our SEO packages that start at $699/mo.
Maintenance
Monthly updates can be looked at in terms of hours and sessions. So, if your package includes 2 revisions per month, you can send us up to 2 changes per month. Each time we receive a change, we treat it as up to an hour of work in one session. If the change request will exceed the allotted time in your monthly plan, we will let you know. Our hourly web development rate outside of what is included is $150/hour.
Each package includes a different number of monthly updates. Outside of that, you have access to edit any content across your site, add new pages, change images, etc. If you require more than the included monthly updates, our hourly rate for web development is $150/hour.
Each website comes with reliable hosting and security, which has a monthly cost to us associated with it. All packages beyond the Starter also come with a defined number of monthly updates we will do to your site upon request. The monthly cost also keeps you from having to pay for your entire site upfront.
Yes, our rate for website development is $150/hour.
No, monthly updates do not rollover if unused.
Domain and Hosting
Logical Position prefers that you use your existing domain (this is best practice for SEO as well). We will need the login information to your provider in order to move your site from your old hosting to our hosting.
No, the Small Business Websites do not come with email services.
The Small Business Website can definitely replace your existing site, however, some businesses may find it better to keep their old site and run this site in tandem. Please note, that if you go this route, the new site may have duplicate content and that content will be ignored by Google - meaning any efforts towards SEO on the new site won't be as strong as if there was no duplicate content.
Ecommerce
If you have multiple variations of a single product we are managing your AdWords account, we strongly suggest not using this platform. The main limitation of this Ecommerce platform is its ability to have variant level attributes, which means your Google Shopping Feed will not have all the data needed to function properly. If you have a single sku per product, and each product can be listed individually without variations, then the ecommerce website can work well with Google Shopping.
The Ecommerce package includes dozens of accepted payment options. The entire list can be found on our Ecommerce Features page.
Yes, customers can log in to see order history, tracking information (once uploaded), and even revise orders.
In the platform, you will be able to use your login credentials for the specific gateway. This is something we prefer the client does instead of us.
Once an order has been placed and you have set up shipping through your shipping provider, you can enter the tracking number into the order within the dashboard. This can be set up to automatically send an email to the customer with the tracking information.
Yes, you can manually enter the available inventory and opt to hide the product if inventory runs out. Though the platform does not sync with an inventory management platform, it does automatically subtract from the available inventory as items are purchased.
Though you can create title and page descriptions for each product, category pages are dynamically created which means they cannot be a target for SEO. If SEO on your ecommerce site is a top priority, this is not the best solution for you.
Additional Information
What We Need to Start:
Content: All text content that will be on the site must be provided within 2 weeks.
Logos/Other Graphics: High quality graphics in either .svg, .jpg, or .png.
Images: High quality images are a very important element to a beautiful site. If you don't have any pictures, we can recommend optional stock photos.
Sitemap: A clear outline of which pages will be included on the site
Contact Forms: Additional information you need to collect on your forms beyond name, email, and phone.
Existing Logins: If we are using an existing domain, we need to have your login credentials prior to starting.
What is Not Included:
Content Creation: Clients are responsible for providing the content that goes in the site. Our developers rely on completed content to put into the site and do not write new content.
Graphic Design: Websites do not come with graphic design work included. If you would like logos or any other design projects, these are priced separately through our graphic design team.
Email: Email services and hosting are not provided. We will set up the website forms to forward to an existing email account of yours.
SEO: All sites include 1 or 2 hours of SEO Consulting (depending on package size). Though built with SEO best practices in mind, Small Business Websites do not have any ongoing SEO work included.